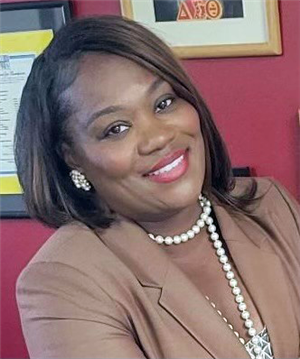 Dr. La'Quetta S. Small was born and raised in Newark, New Jersey. After graduating from Central High School in Newark as class valedictorian, she enrolled in the Educational Opportunity Fund Program (EOF) at The Richard Stockton College of New Jersey, now Stockton University. In 1999, she graduated with a Bachelor of Arts degree in Education and a Bachelor of Science degree in Public Health with a minor in Social Science. She received her Master's degree in Educational Administration from Kean University in 2003 and in May 2010, she obtained her Doctorate in Educational Leadership from Rowan University.
Dr. Small is entering her 23nd year as an educator. She began her teaching career in the Newark Public School system. After a few years, she began working in Atlantic City Public School District where she served for 19 years. She started as a fourth grade teacher at New Jersey Avenue School. Later, she held the positions of assistant principal at Uptown School Complex, acting principal of Uptown School Complex, principal of Pennsylvania Avenue School and principal of Atlantic City High School. Dr. Small was appointed to a 4.5 year term in January 2022.

Working with children and serving the community bring her a great sense of fulfillment. She is dedicated to her profession and works diligently to ensure that staff and students Strive for Excellence Every Day in Every Way. She prides herself on leading by example and believes that, "Education is not preparation for life, but education is life itself." ~John Dewey

Dr. La'Quetta Small received the following community service awards:
Best Practices Award for Innovative Instruction in Newark Public Schools

National Council of Negro Women-Excellence in Education Award (Newark Section)

National Sorority of Phi Delta Kappa, Delta Lambda Chapter-Education Award

City Council of Atlantic City Recognition for Leadership in Education

Omega Psi Phi Fraternity, Incorporated, Upsilon Alpha Chapter-Education Award

Atlantic City Hometown Hero Award-Educational Leadership

Hiram Abiff Masonic Lodge No. 16, Free and Accepted Masons, PHA-Educational Leadership Award

Stockton University-Distinguished Alumna Award for Community Service and Education

Second Baptist Church-Woman of Virtue Award
Dr. Small is a member of Delta Sigma Theta Sorority, Inc., Atlantic City Alumnae Chapter, , National Sorority of Phi Delta Kappa, Inc. (Iota Chapter), The Links, Incorporated, Atlantic City (NJ) Chapter, Epicurean Society of Southern New Jersey and former Vice-Chair of the Atlantic City Housing Authority. Dr. Small believes that, "Service is the price that you pay for time on earth."- Shirley Chisolm. In addition to her community service, Dr. Small takes pride in teaching aspiring administrators where she served as an adjunct professor at Cheyney University in the Educational Leadership Graduate Program. Dr. Small is married to the Honorable Marty Small, Sr., Atlantic City Mayor. They are the proud parents of Jada, 14 and Marty Jr., 12. who attend school in the Atlantic City School District.