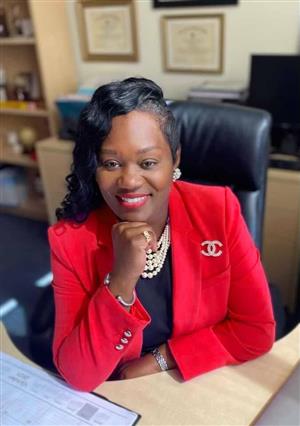 January 1, 2022
Dear Atlantic City Public Schools Staff, Students, Families and Community:
Happy New Year! It is a distinct honor and privilege to serve as your Superintendent of Schools. I look forward to working with our school community, speaking with board of education members, meeting many students, dedicated staff and parents. I take pride in our school district's rich culture and diversity. My commitment to the district is to provide a safe, positive learning environment that will empower students to become creative problem solvers and critical thinkers as I fully embrace this opportunity to lead.
As the superintendent, assuring that our students receive a meaningful education is my top priority. My initial focus is to assess, make necessary adjustments and build upon what Atlantic City School District offers approximately 6,500 students and close to 1,000 district employees. I expect all students and staff to exhibit Atlantic City PRIDE (Personal Responsibility in Daily Efforts). Doing so will enable everyone to have a successful experience with the Atlantic City School District.
As we continue to strive for excellence in our school district, it is our expectation that everyone who visits our school buildings or offices feel welcomed, safe and supported. To that end, our schools must maintain and grow a rigorous teaching and learning environment that provides every student with a sense of belonging while helping students to develop intellectually, emotionally and socially.
Immediate Goals:
• Meet with board of education members, directors, central office staff, school administrators, parents, students and school stakeholder groups to foster and build collaborative relationships
• Assess district resources, curriculum and programs for continuous improvement through the identification of strengths and opportunities for growth • Work to establish a culture centered around professionalism and high expectations
• Provide an environment that is centered on the individual needs of every student
• Develop a strategic action plan and refinement for the school district
Our district's motto is "We All Learn Together." We will continue to build on our district's strong foundation and many accomplishments for student growth.
As we encounter a time where there is an increase in COVID-19 cases in Atlantic County, we will continue to monitor and assess the district to ensure that students and staff are in the safest learning environment. We will no doubt face new challenges and uncertainties that will require all of us to be flexible. At this time, we are planning to resume full in-person learning after winter recess on Tuesday, January 4, 2022
AC PRIDE! AC STRONG!
Yours in Education,
Dr. La'Quetta S. Small
Superintendent of School